As of 2021 onwards the Akawa Project is based on new pillars,
An Akawa Project News update - April 2021
Dear Friends of the Akawa Project,
As we close the first quarter of 2021 we are excited to write to you about some big changes in the life of our Akawa Project.
Since 2019 we have been working on a funding proposal to the Dutch Government, in strong partnership with one of our roaster client. In the wake of 2021 we have finally received the good news of it's approval, and to make things even better, we were joined in the adventure with extra funding by two other of our roaster clients as well as our sister company in Australia with it's repeat yearly funding ('cheers guys!).
The total amounts available are somehow mind-boggling compared to what the project used to "survive" on in recent years and will enable us to give it a whole new direction in the course of the two coming years. As of 2021 onwards the Akawa Project is based on new pillars, some revived from the early years, some new. All aimed at improving coffee farmers livelihoods with their own impact.
Productivity : nursery beds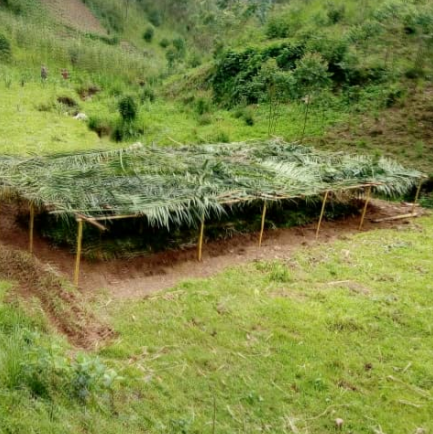 Why ? From rustic to modern units to help increase farm yields
What? 11 * 1000 sqm beds
With? Each 200'000 plants (75% coffee - 25% shade and fruit trees)
Who? Pillar managed by Supremo, Nurseries to be ran by Women
Knowledge : good agricultural practices trainings
Why? Improve farm management skills of 10'500 coffee farmers
What? Training the trainers (Leader farmers) and follwoing-up with the whole community
With? 463 Leader farmers
Who? Pillar managed by Supremo
Gender Equality : Women's groups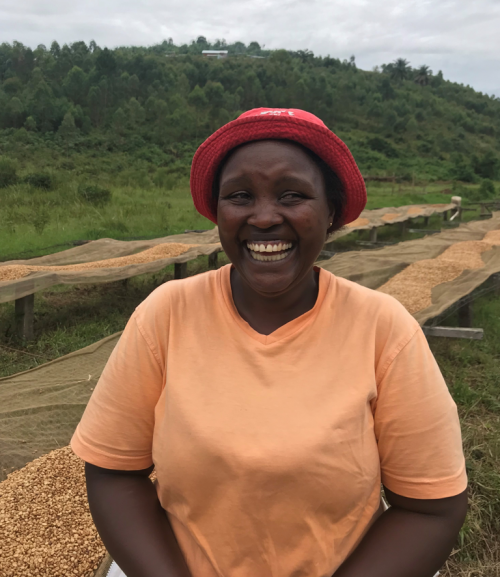 Why? Improve gender equality and women's rights
What? Trainings on savings, household decision, income diversification, positive masculinity and more
Who? Pillar managed by the United Nation's Women's office in Burundi
Water : Safe access to drinking water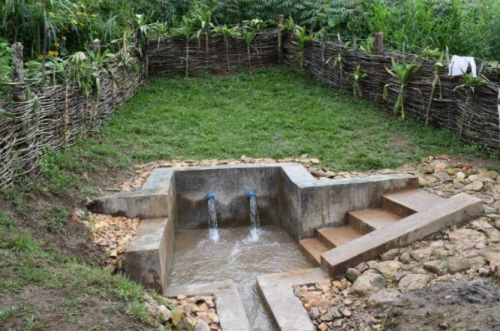 Why? Improve and provide safe access to spring water
What? Protecting existing natural springs to enable safe access
How? Solidifying ground level access and preventing animal access with natural fencing
Who? Pillar managed by the NGO ZOA
With these strong pillars to develop the road is open ahead of us to start field work and reach measurable objectives by 2023. With the partnerships for the two outsourced pillars still being finalized and the harvesting season upon us Supremo started the trainings in January. We share with you how these went !
Great minds think alike !
To kick start this new two year cycle we hosted a workshop in January with the aim to refresh knowledge and skills of the Project's Managers and Agronomists.
This 3 days workshop consisted of classes on various agricultural topics such as pruning, mulching, or manure preparation, and was given by one of our favorite experts in Burundi, Monsieur Emile, alongside our own Jean-Pierre !
Day one of Good Agricultural Practices workshop
Day three, putting skills into practice
& 4: Some well deserved rest & recreation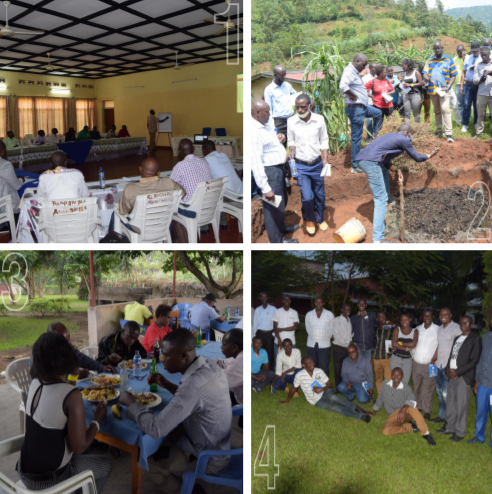 Topics
1.) Renewal of coffee parcels
2.) Maintenance of coffee farm
3.) Fertilization
4.) GAP (pruning, mulching, manure)
5.) Pest control
6.) Harvesting for quality
The theory was followed by a half-day practice session on and around the Mageyo washing station grounds where participants could put to the test the skills they had been thought.
Participants came out of this workshop with high spirits, ready to take on the mission of training the Leader farmers themselves !
Self evaluation at end of workshop
46% increased knowledge by 35 = 80%
20% by 20 = 35%
34% by 10 = 20%
Meet the trainer !
We cannot continue telling you about the Project without introducing "JP" !!
JP : "As a coffee guy and a Burundian citizin I am convinced that I have a role to play in empowering the Burundian cofee sector and fulfill the dreams I have for my country."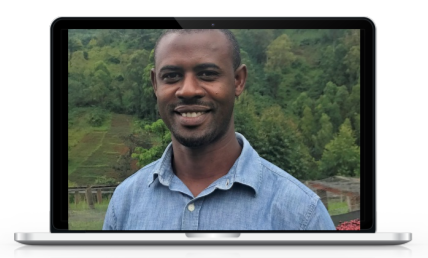 Jean-Pierre Ntarindwa or "JP"
Age : 42
Married
Kids : second coming in May 21
Nickname : JP
Studies : Agronomy
With an Auntie active in the coffee sector it is since a young age that JP decided to make it his own career path. Jean Pierre is married to Chantal and together they have a 2 year old son named Igiraneza (which means God's kindness).
Every morning Jean-Pierre puts on his sneakers and heads on a 5-6 KM run. He likes all sort of music but his favorite one is Gospel. Reading is another of his passions and his preferred books are Novels.
After graduating from University with a Thesis on Bio-fertilizers JP joined USAID as an intern in charge of training farmer groups. JP also held cooperative's staffs training on Fairtrade standards and quality focus. He then joined Kalico, a coffee exporter, and quickly rose to the position of Production Manager over-viewing all aspects of coffee processing and quality, from cherry to green coffee. Since 2019 at Supremo JP is our strong asset in the field when it comes to both project Management and Quality Control.
Follow The leader
Having refreshed the technical skills of our partner agronomists and washing stations managers we could now embark on training the Leader farmers directly. Our in-house expert teamed up with the agronomists at each washing station in February and March to hold the first trainings.
With renewed skills and a clear action plan ahead the 11 washing stations agronomists drummed-up the communities to inform about the upcoming Leader farmer trainings to take place at the stations. For a restart of trainings after a period of inactivity the attendance was not bad with 54% of the Leaders attending. No doubt that with the success encountered the numbers will be growing as trainings continue. Out of 463 Leaders they were 251 to attend of which 9% were Women Leaders, we aim with time and thanks to the Gender pillar of the Project to increase this percentage of women.
The trainings were given by Jean-Pierre in close collaboration with the station agronomists. The methodology use was one of inclusive teaching with open discussion between the groups and the trainers.
The Leaders expressed their satisfaction in the trainings and went back to their coffee farms determined to in turn train their neighbor farmers.
Topics
1.) How to produce organic manure
2.) The role of Fertilization
3.) Harvesting for quality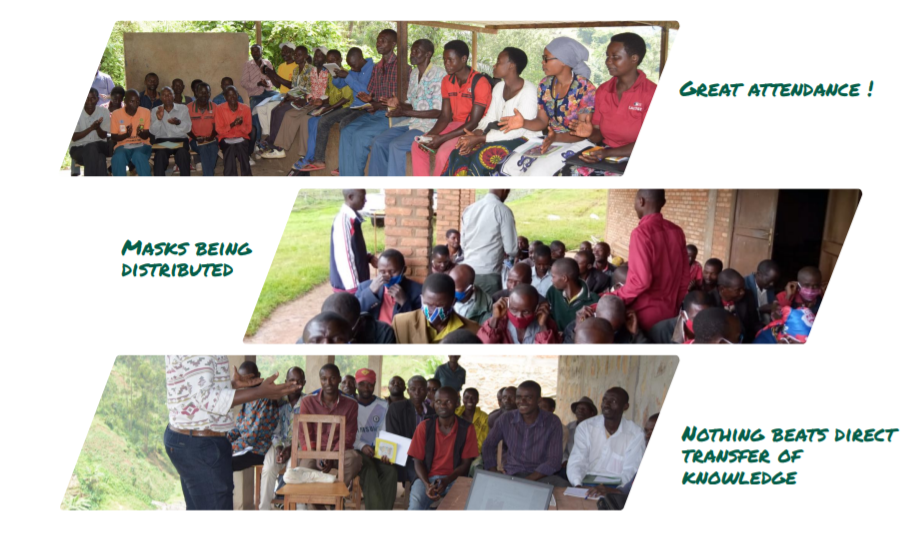 Goats Distribution - March 2021
One of the aims we constantly have in mind is to increase soil fertility for farmers to have healthy yielding coffeetrees. We wanted to associate the theory of the leader farmers receive in the trainings with an incentive. Topography being somehow of a challenge in the Project area we could not easily chose to donate Cows to our members and we opted for goats instead. Each Leader farmer is to receive a goat in order to help with creating manure for soil nurturing. We do realize this is a small step towards a bigger goal but feel that the Leaders will be benefiting from these in many ways.
Three rounds of distribution have already taken place with the farmers committing to donate future baby goats to their neighbors, hoping to achieve a snowball effect on the entire community after a few years. Whilst the Leaders fo Burambi, Nyagashiha, and Runyinya have received their goats the remaining 8 groups shall be receiving theirs in the coming weeks, more about this in our next newsletter !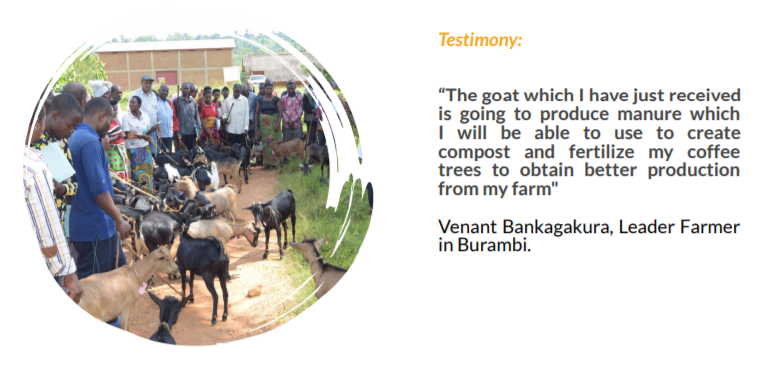 Thank you
Thank you for taking the time to read about the Akawa Project, we hope you enjoyed and would you have any questions or comments please feel free to reach out by writing to info@akawa-project.com with a cc. to thomas.delbar@supremo.be.
In the pipe for Q2:
Nursery beds construction
Topography study for water sources
Kicking-off the Gender pillar with the United Nations
And..... the Harvest !!